Certain members of the public are very generous when it comes to giving. Here at Proud Partners we are priviliged to have people donate  instruments to us that we can in turn give where it's needed. If you want to make a donation, please click here:



We would like to thank these donors for the impact that they make on young lives. Here are some of our instrument donors.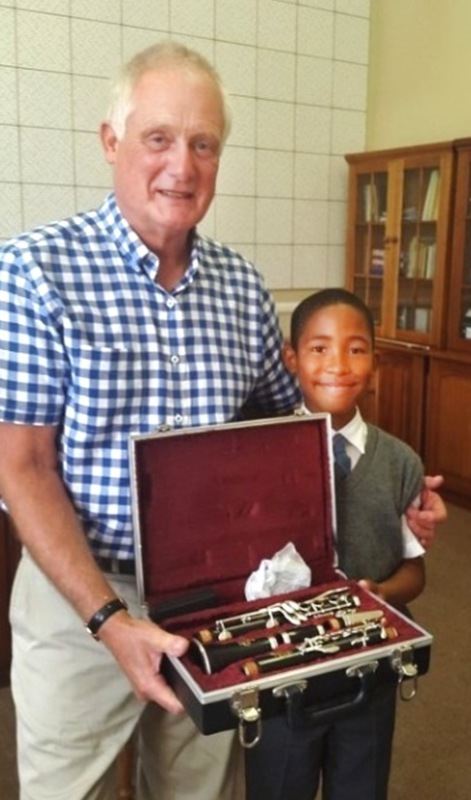 Alan Richards, a British businessman who has been living in South Africa for many years, contacted us and offered to donate two saxophones and a clarinet to someone who needed instruments but could not afford them.

These instruments have an interesting story, which we would like to share here to show that Alan is not just big-hearted, but also a romantic...! Alan grew up in Manchester where he played the saxophone in a Glen Miller band at the young age of 14 years. He met his future wife at university in Cambridge and wanted to ask her to marry him, but as a penniless student he didn't have enough money for a ring. So he decided to sell his saxophone and use the money to buy her wedding ring. "The best investment I've ever made!" says Alan, as they have been married for nearly 40 years.

Seeing that he had no instrument, he could no longer indulge his passion for music. Life went on – he had a successful career and worked in a number of places across the world. About 30 years later he found himself in the south of America. He walked past a second-hand shop and stopped dead in his tracks when he spotted a beautiful saxophone in the window. He could not resist it and bought the alto sax on the spot. Over the years he also acquired a tenor sax and a clarinet. However, he did not play these instruments very often and when he read about Proud Partners' music project he decided to donate them to talented young people who cannot afford their own instruments.

Proud Partners quickly identified three deserving, talented young musicians. Their dreams were realised when they were presented with the precious instruments.


Artscape Wellington Youth Band
Proud Partners has been supporting this jazz band for some time (see
here
) and decided to donate the tenor sax to them. Ian Smit, the leader of the band, nominated Devon Small, one of the many talented members, as the recipient of the wonderful gift. The young man couldn't believe his luck!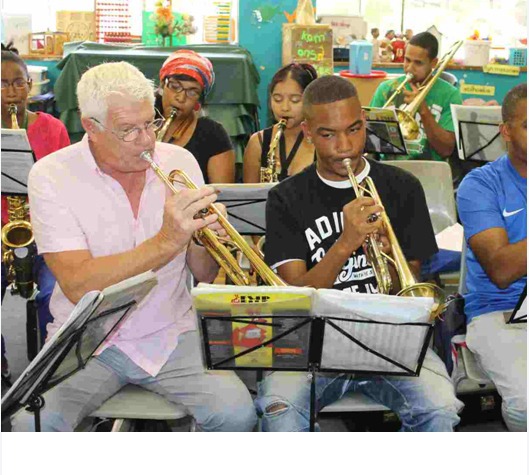 Bandleader and trumpeter Ian Smit rehearsing with the band
Bandleader Ian Smit with saxophone donor Alan Richards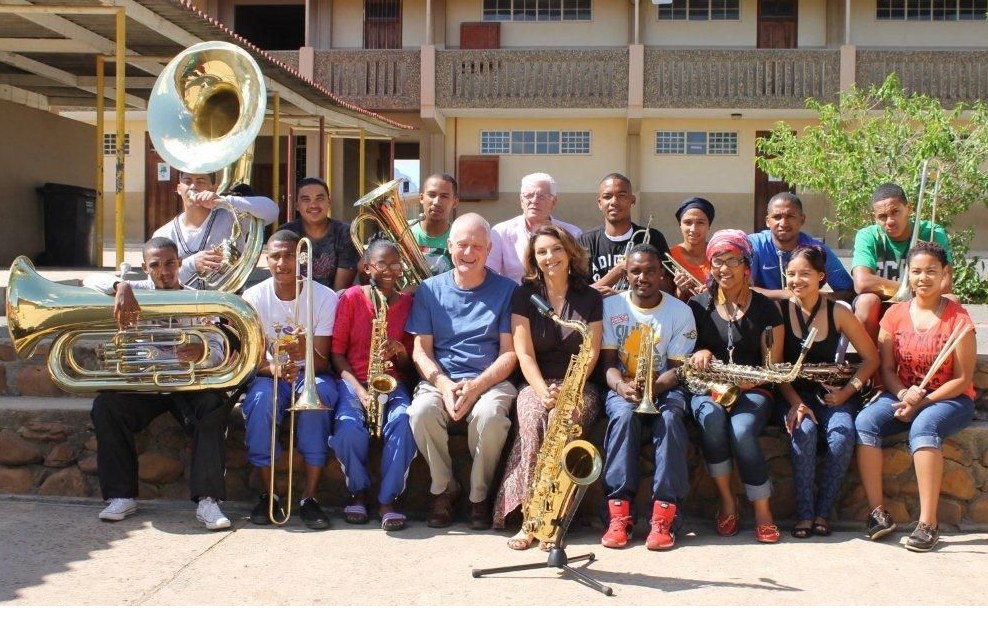 The Artscape Wellington Youth Band with donor Alan Richards and Proud Partners founder Isabel Verwey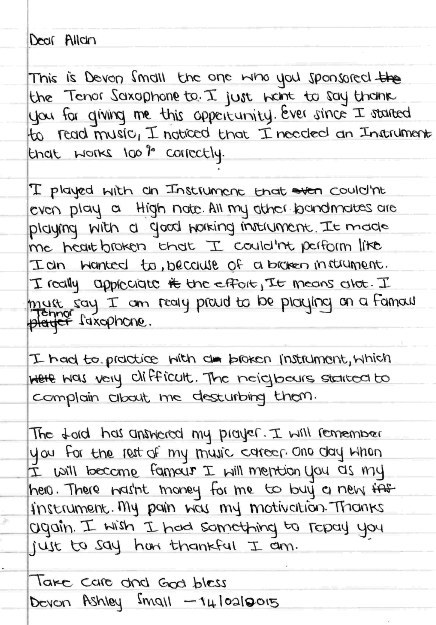 Thank you letter from recipient Devon Small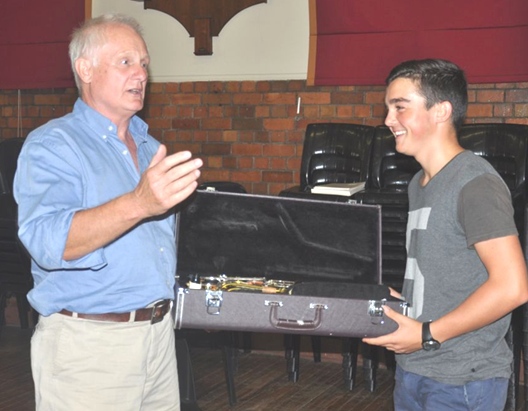 This orchestra, under the baton of Ronella van Rensburg, comprises learners from Paul Roos Gymnasium, Bloemhof Girls' High and Rhenish Girls' High School in Stellenbosch. It boasts a combination of wonderful instruments, ranging from drum-kit and bass guitar, to violin, flute, trumpet and clarinet. The ensemble performs regularly, and takes part in local Eisteddfods and competitions. A variety of genres are performed, and especially modern music is very popular.

One of its talented members is Gr 10 pupil Luke Griessler who would like to study music at university, but cannot afford his own instrument. He would love to learn to play a saxophone and Proud Partners decided to help him realise his dream. Alan attended one of Musica Perpetua's rehearsals and presented the overjoyed young Luke with his very own tenor sax. He also presented Luke with great jazz sheet music to enjoy for years to come.

Here is a letter of thanks Proud Partners received from Ronella:

Dear Isabel,

I want to thank you for the wonderful gift that one of our learners received through your company Proud Partners! He has already started with lessons, and are now the proud owner of a brand new alto saxophone. He plans to do music as a subject next year and has proved that he will work hard and play for many years to come. He can play a few notes already and will be able to start playing in the orchestra soon! We will invite you and Mr Richards to the first concert he is playing in, so that you can experience the change that you made in his life!

Thank you for the enormous difference that you have made in Luke's life, as well as the orchestra's! We really appreciate it.

Vriendelike groete / Kind regards

Ronella van Rensburg

Kultuurhoof / Head of Culture

Vakhoof: Musiek / Subject Head: Music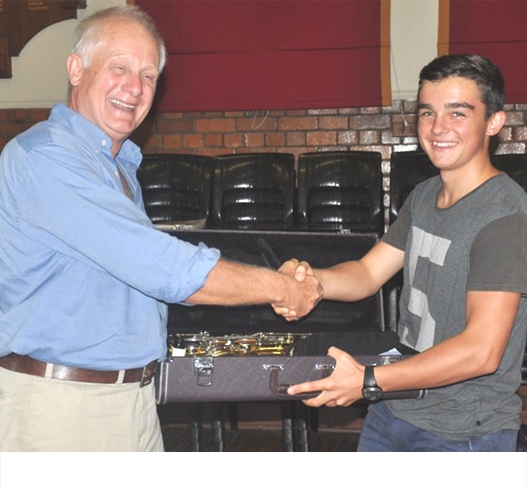 Alan presents Luke with his new saxophone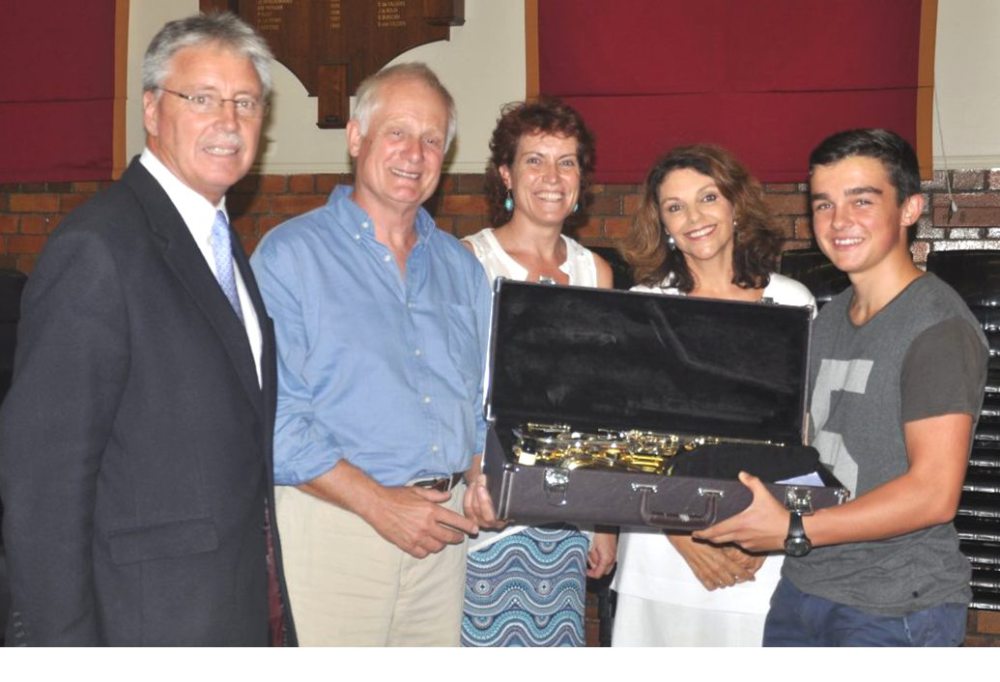 Paul Roos headmaster, Rector Jannie vd Westhuizen, donor Alan Richards, conductor Ronella v Rensburg and Proud Partners founder Isabel Verwey with recipient Luke Griessler
Three weeks after the presentation, Luke sent Proud Partners this recording of him playing his new instrument – and for someone who had never played a saxophone, he has certainly made progress very quickly.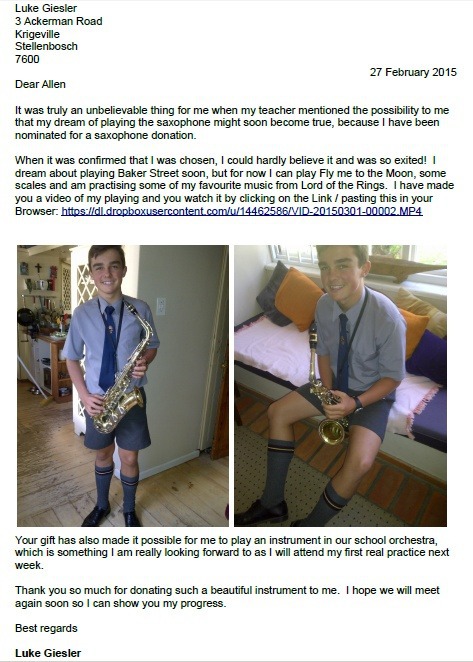 Hugo Lambrechts Music Centre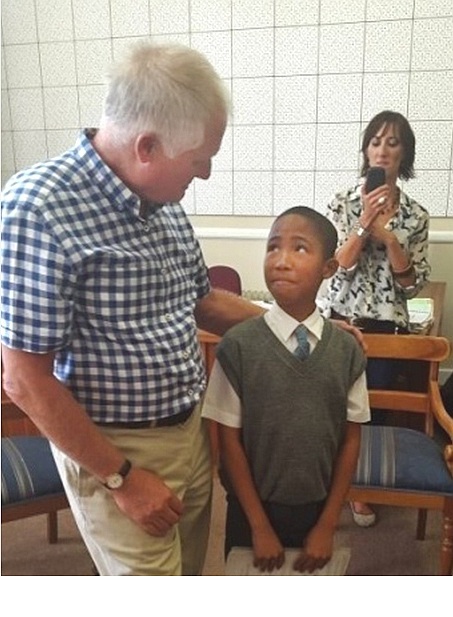 The Hugo Lambrechts Music Centre in Parow is a well-known music centre where quality practical tuition in all the symphonic instruments is provided. This Music Centre affords young South Africans the opportunity to prepare themselves to compete internationally and provides students with the opportunity to experience all the variations of musical performance, i.e. solo playing, chamber music and orchestral playing. All students at the Centre are involved in string or wind orchestras.

The Hugo Lambrechts Music Centre Development Programme was started in 2005 with the establishment of the Silversands Primary School project. Rosendal, John Pama and Kalksteenfontein Primary School subsequently joined the programme.

This programme enables learners from disadvantaged communities to receive lessons and instruments free of charge. All students receive individual or group practical tuition and attend a theory class once a week. The teachers from the relevant schools/projects assist the learners with practising their instruments during the week and they can enroll for UNISA examinations, kindly sponsored by the UNISA Music Foundation.

Proud Partners decided to donate Alan's B mol clarinet to one of the learners on the Development Programme, and Ms Charlene Saayman, who is responsible for the woodwind instruments, recommended Ethan le Roux. After a guided tour of the Music Centre's wonderful facilities, Alan met young Ethan and presented him with the instrument.


Alan Richards giving Ethan some pointers​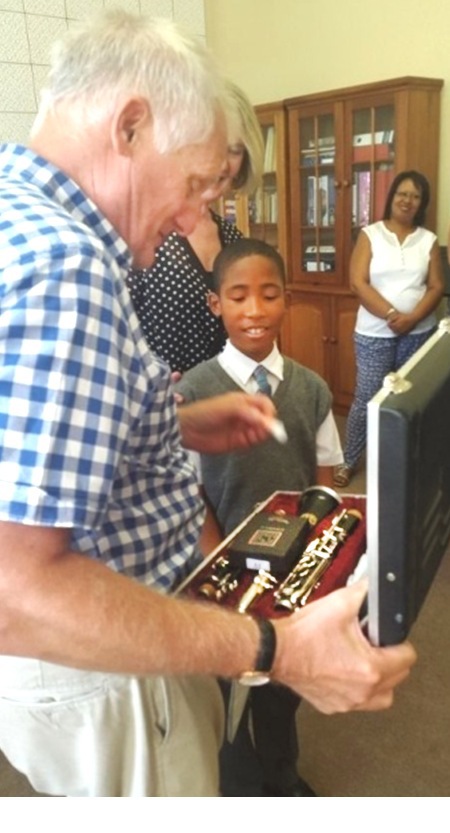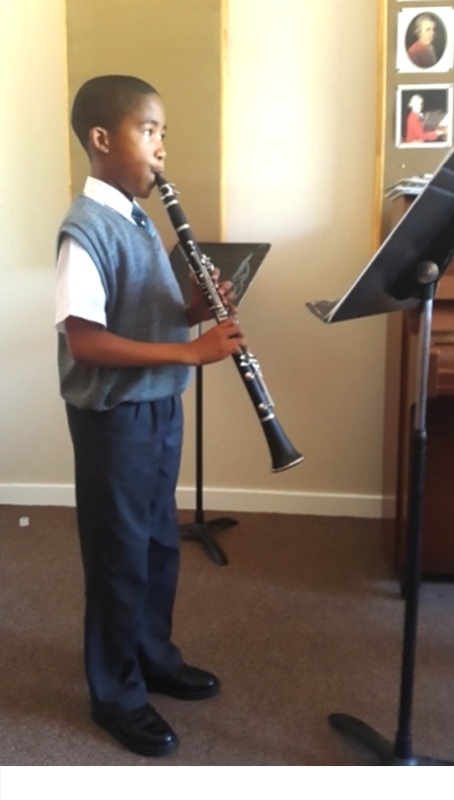 Ethan le Roux with his new clarinet
​
Alan Richards presenting Ethan le Roux with the clarinet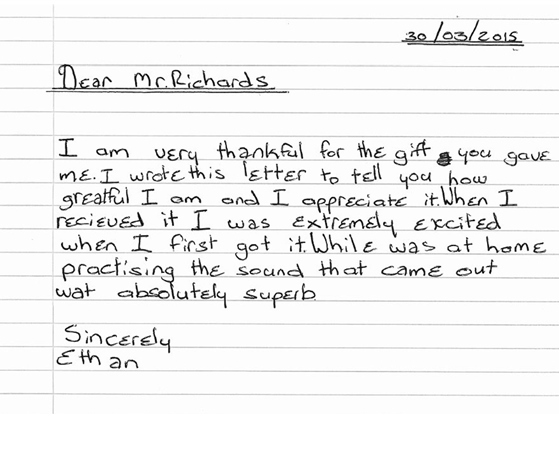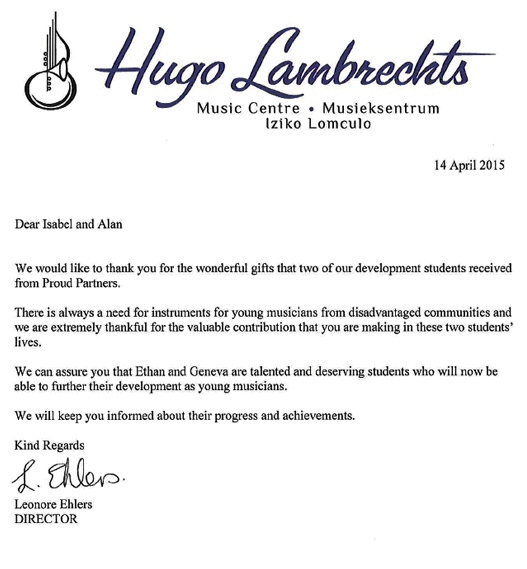 Ethan le Roux's letter of thanks
Proud Partners also presented a beautiful violin, donated to us by Colleen Brice, a graphic artist, to another learner on the Development Programme. Colleen had contacted us through our website and offered to donate a violin she had bought in the hope of mastering it. "The instrument is beautiful and I love the sound of it, but as someone who is well into her 20s I don't really have much free time or money for learning an instrument. Maybe much later! I am a visual artist so I know I would have loved support with materials through college, and if I can do that for someone else it would be great."

Proud Partners decided to donate her violin to Geneva Pekeur, a Gr 8 learner of Florida High School, who joined her violin lecturer, Ms Charlene Bogenhagen, in treating us to an impromptu performance.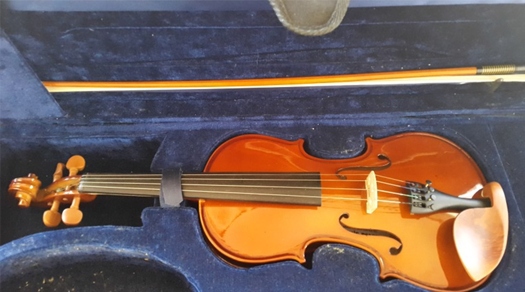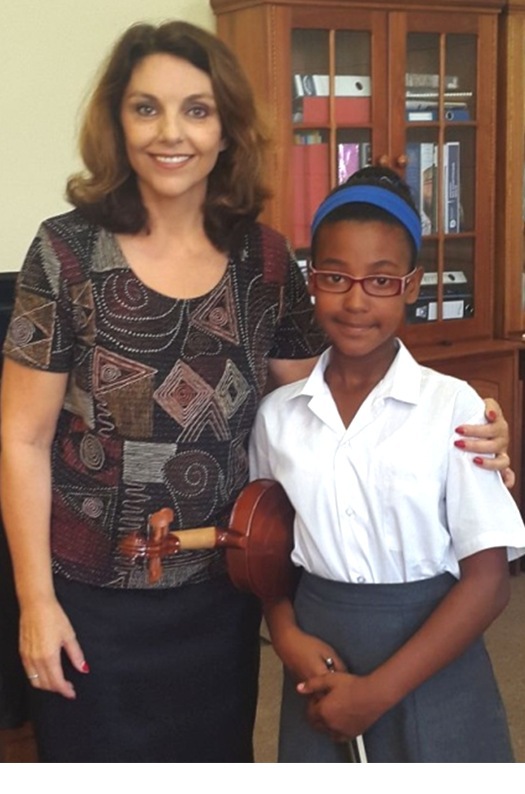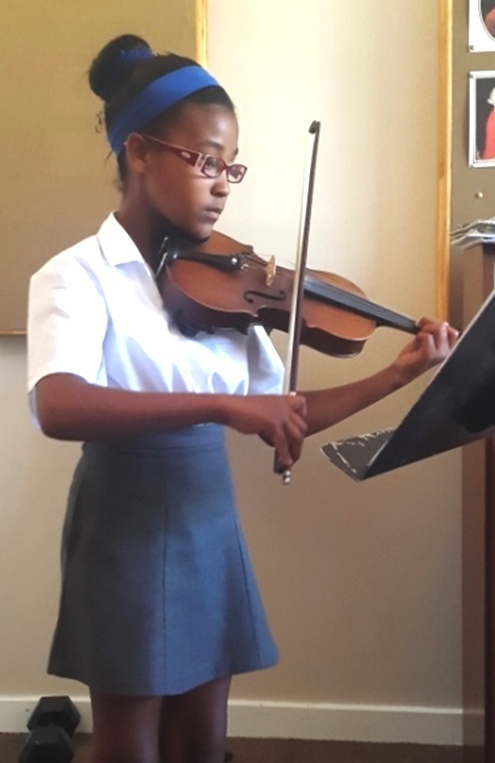 Isabel Verwey with Geneva Pekeur